About your visit
Checking in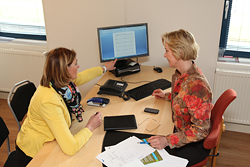 You will check-in at the clinic's reception at the agreed time. The receptionist verifies your details and modifies them where necessary. You then take a seat in the waiting room. Someone will come and collect you from the waiting room as soon as it's your turn.
Rugpoli assesses the effectiveness of the care it provides which is why we kindly ask you to arrive 15 minutes early for your first appointment, to complete a questionnaire about your symptom.
What to bring with you
Your GP's or specialist's referral letter
Valid ID
Your medication overview (if you take medication)
Support
After an injection you must not drive your car. Please therefore ask someone to come along to your appointment with you, to drive you back home.
Clothing
We recommend you wear comfortable clothing that is easy to put on and take off.
Handicap
If you are handicapped an examination and/or treatment may require more time and attention. We like to take this into account, for example, by booking in extra time for you. This is why we ask you to notify us in advance.


Cancelling your appointment
If for whatever reason you cannot make your clinic appointment please inform us as soon as possible, but in any case at least 24 hours in advance. We can then book another patient in to your time slot. If you do not cancel your appointment we are obliged to charge 27 euros for the consultation.
Important information relating to an examination or injection treatment
Medication
After an injection treatment with corticosteroids you do not need to change your medication schedule.


Anticoagulants
If you use anticoagulants, please discuss the usage with your consultant. Anticoagulants are: Coumarin based medication, Marcoumar, Sintrom, and Plavix.
Please notify the medical practitioner of the following prior to your injection treatment:
If you use anticoagulants
If you are allergic, to iodine for example
If you are pregnant, or think you might be pregnant
If you suffer from diabetes)